Traveling
Perayaan Chap Goh Mei di Sekolah Cinta
Sebagai sekolah Cina, sudah menjadi tradisi mereka merayakan hal-hal yang berkaitan dengan kebudayaan Cina. Ada Mid Autumn Festival, Chinese New Year, Chap Goh Mei, dll. Setiap perayaan punya ciri khasnya sendiri dan perayaan Chap Goh Mei pasti dimeriahkan dengan pertunjukan Lion Dance.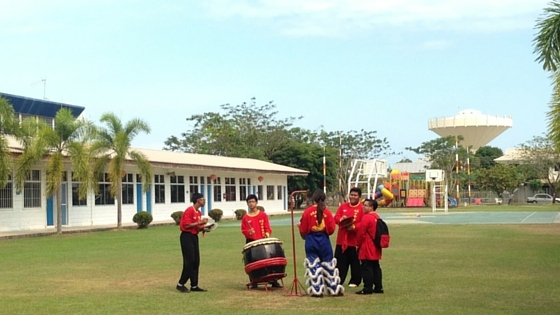 Kalau biasanya pertunjukan ini hanya dapat dilihat oleh anak-anak karena diadakan di sela-sela aktivitas belajar mengajar, tahun ini sekolah memberi kesempatan kepada orangtua untuk menyaksikannya. Dan saya pun nggak menyia-nyiakan kesempatan itu. Hari Senin, 22 Februari kemarin, atas permintaan kakak Cinta, saya sudah siap di dalam gedung sekolah sebelum pukul 10 pagi.
Ada untungnya juga datang lebih awal dari waktu pertunjukan yang dijadwalkan jam 10 pagi itu. Selain bisa melihat para Lion Dancer bersiap-siap, saya juga bisa menyaksikan kehebohan anak-anak ketika barongsai memasuki ruang kelas dan 'memberkati' kelas mereka. Seru juga, apalagi di kelas lower primary. Anak-anak kecil itu berebut pengen megang si barongsai.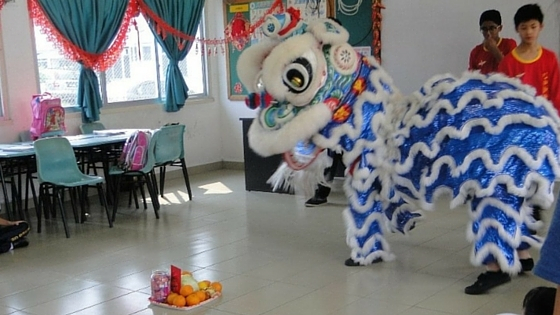 Padahal para penari barongsai itu ya kakak-kakak kelas mereka juga. Anak-anak middle school dari sekolah yang sama. Meski masih SMA, kemampuan mereka bagus lho. Malah klub-klub lion dance dari sekolah-sekolah ini sering diundang perform dalam perayaan Chinese New Year di kantor atau rumah.
Kalau dulu, mereka juga sering tampil di tempat umum. Waktu masih tinggal di apartemen yang jadi satu dengan supermarket, tiap tahun baru Cina pasti bisa nonton lion dance ini dari dekat, karena pemilik apartemen & supermarket selalu mengadakan pertunjukan lion dance untuk memberkati toko dan apartemennya serta menghibur keluarga dan pengunjungnya. Tapi sejak 3 tahun terakhir, berdasarkan peraturan baru, pertunjukan tersebut hanya boleh dilakukan di rumah, sekolah atau komunitas khusus. Meski demikian, konon, honor untuk tampil menari barogsai ini cukup besar. Hebat ya, klub sekolah pun bisa jadi profesional.
Setelah berkeliling masuk ke beberapa ruang kelas, rombongan barongsai ini kembali ke lapangan, berkumpul bersama ratusan anak yang sudah duduk manis menunggu kehadiran mereka. Saya pun menemukan Cinta di tengah teman-temannya. Dan begitu melihat saya, dia memilih untuk menonton dari pinggir ruang kelas bersama saya daripada teman-temannya. Saya jadi merasa tersanjung hihihi. Untungnya lokasi kami nonton cukup strategis sehingga bisa leluasa menyaksikan atraksi lion dance itu.
Meski cukup sederhana dan nggak pakai panjat-panjat tiang seperti biasanya. Pertunjukannya cukup menghibur. Anak-anak antusias nontonnya, terutama ketika salah satu barongsai lempar-lempar jeruk dan permen. Pada berebut deh.
Jeruk memang selalu jadi bagian dalam perayaan Chap Goh Mei, seperti kue keranjang yang tak terpisahkan dengan perayaam Mid Autumn Festival. Tiap tahun baru Cina, pasti supermarket banjir dengan jeruk-jeruk Mandarin yang manis-manis dan dibungkus plastik itu.
Chap Goh Mei sendiri adalah perayaan yang dilakukan pada malam ke-15 setelah tahun baru Cina sebagai penutup dari rangkaian perayaan Chinese New Year. Ketika Chap Goh Mei, biasanya keluarga berkumpul untuk makan besar dan menyalakan kembang api. Macam lebaran gitu kali ya. Rumah-rumah pun dihias indah dengan lampion merah. Pokoknya tiap tahun baru Cina, rumah-rumah, toko-toko dan sekolah Cina pasti lebih meriah dari biasanya dengan aneka hiasan berwarna merah. Cantik banget.
Selamat memasuki tahun Monyet bagi teman-teman yang merayakan. May good luck and good fortune always be with you.