Dadadadadada circus dadadadada afro circus afro circus afro polka dot polka dot polka dot afro.. I like to move it move. I like to move it move it.
[youtube=http://www.youtube.com/watch?v=1UrpQTI6HTo&hd=1]
Aaaaaaak, lagu itu seperti terngiang-ngiang terus di telinga sepanjang malam setelah kami nonton Madagascar 3.
Petualangan Alex, Marty, Gloria, Melman, King Julien, Maurice, Mort and the Penguins untuk kembali pulang ke New York Central Park Zoo kali ini penuh dengan kejutan yang seru, kocak dan romantis. Sepanjang film kita dibuat kagum, terharu dan ketawa karena cerita dan musik yang keren banget. Apalagi saya dan Cinta baru pertama kali nonton film 3D (iyaaaa, emang ndeso kok -ngaku sebelum dihina dina duluan). Cinta yang awalnya takut dan minta pangku sampai heboh sendiri di tempat duduknya karena keasikan nonton dan joget. Untung ya nontonnya film anak-anak, jadi mau ribut pun nggak ada yang protes karena semua juga begitu *grin*
This is a must seen movie for children, mumpung liburan sekolah. Anak-anak besar mungkin senang saat adegan kejar-kejaran antara the castaways dengan para animal controllers dan saat latihan sirkus juga romantisme Alex-Gia, sedangkan yang lebih kecil akan terhibur dengan lagu-lagu dan adegan-adegan lucu dari film ini.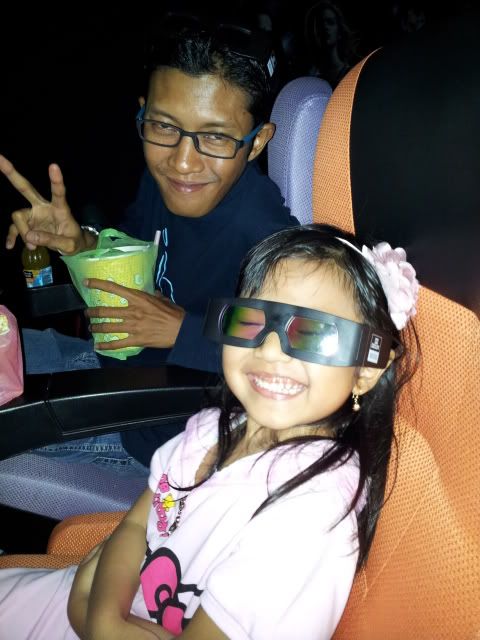 Cinta sendiri sebagai penggemar berat Penguin of Madagascar nggak sabar menunggu film ini dirilis sejak liat posternya di The Mall Cineplex, Brunei beberapa bulan yang lalu. Pas banget akhirnya Madagascar 3 ini tayang di PSB (Plaza Sutera Biru) Dualplex, Seria saat libur sekolah 2 minggu yang lalu. Bertiga, sepulang pak suami kerja, kami pun menyempatkan nonton dan sekarang pengen nonton lagi 😀